Hypnotherapy for Weight Loss
How will you look when you reach your target?
Hypnotherapy for weight loss breaks the mould. We are constantly bombarded by the media with images of 'perfect' chiselled, muscular men and slim, 'ideally' proportioned and air-brushed to perfection women, making most of us question our own appearance at one time or another.
Add a dash of self-esteem problems, a sprinkle of anxiety (about being single, or attached but unappreciated, cheated on, bereaved, etc.) and a dash of fear about being 'past it' to the mix and it is all too easy to become obsessive about weight, size, shape – the list is endless.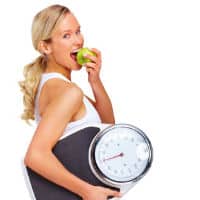 For many, all the pleasure of dressing creatively as a form of self-expression has been subsumed by the need to impress, keep up with the Jones' and find the right mate. Uniqueness is no longer celebrated and, from Tokyo to Milan, fashion and models seem to grow more homogeneous each season. It is about profit, not about beauty.
So the world of fad diets, exotic sounding pills and treatments and the self-loathing 'punishment cycle' beckons.
Thing is, they don't work
Losing weight is just down to the magic formula of eating less and/or exercising more. Our hypnotherapy for weight loss programme can help you to achieve both.
Weight loss is not the problem
The droves of unhappy, post-op plastic surgery, liposuction patients who still lack an inner sense of contentment, acceptance or beauty illustrate this point.  Ten procedures later they are no happier.
Over-eating is often linked to unresolved emotional issues.  Lack of motivation to exercise is rooted in subconscious ideas about yourself, and a distorted sense of your body image (it is distorted if others constantly tell you that you ARE attractive and strangers find you attractive) is tied to internal conflict and sometimes painful childhood experiences.
Tighten your belt – without loosening the purse strings!
Save yourself a lot of hassle, time and money by getting to the root of the problem (hint: it is not your body) and free yourself from limiting beliefs, unhelpful past experiences, and deeply ingrained ideas about what beauty means with Hypnotherapy Blackheath through a powerful combination of Hypnotherapy, NLP, Time Line Therapy™ and PSTEC™.