Hypnotherapy for Self-esteem
Healthy self-esteem and self-image are powerful forces that drive and underlie much of our lives. Having a poor self-image knocks our sense of confidence, cripples feelings of self-worth, and can paralyse our ability to act and make decisions.
The key to self-esteem is to valuing your own self-importance. You need to understand that you are accountable for your own actions and responsible in your behaviour towards others.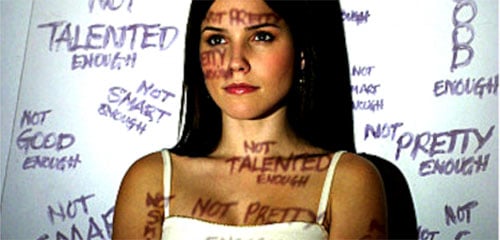 Brain on the brink? Off to the scrapheap?
The insidious and popular notion that we are somehow 'broken' if we lack self-esteem is the first hurdle to overcome. We all function perfectly, maybe not in the most optimal or desirable way, but the choices that govern our behaviour seem to us to be the best ones in the circumstances.
Very much like a computer is not at fault if the operating system keeps crashing, the human mind is not 'broken' if the beliefs, perspectives and memories that underlie our decisions are poor, unhelpful or mistaken. Rather than chuck out the computer, we simply install a new software and in doing so we create more efficient ways to operate in the same circumstances. The same goes for the human mind. We install new programming by using hypnotherapy for self-esteem and the behaviour changes.
Another potentially limiting idea is that we lack some inborn or learnt quality that prevents us from being successful.  In fact, we have all the resources we need right now. Our job is to unlock and use them.
Few of us remember that how we see reality is only perception, not reality itself. The mind deletes and distorts things that don't fit in with our beliefs or generalises experiences. This can be a good thing with success, but potentially damaging with so called 'failures'. Those with low self-esteem tend to see everything, positive and negative experiences, in the darkest light.
How to stop 'failing'
Failure, as such, does not really exist. Every action, step or attempt at something provides useful feedback that helps us hone and improve our performance. Many people get caught in a negative feedback loop, every so called 'failure' serving to confirm their destructive self-beliefs. Yet few realise that if something is not working, the most sensible step is to simply accept that a particular approach did not achieve the desired results, and trying something else. Anything else is preferable to repeating previous actions. By using hypnotherapy for self-esteem we get the opportunity to try various options to find one that fits you.
A victim of fate?
'Victim mentality' is another effective way of limiting feelings of self-esteem. Believing that things happen to you, rather than result from your actions, is a great way of giving up both personal accountability and pretending that you are powerless to improve things.
How depressing and pointless would life be if you were an impotent pawn in an eternal game beyond your control? The rules remain a mystery, so you must bow down to the higher powers and suffer your fate.
An exaggeration? By giving up control of your own life to others, or imaginary forces, you limit the choices open to you and the actions you can take. By accepting that you are the 'master of your own destiny', you get to decide what direction your life takes.
Often 'victim' thinking springs from a fear of taking responsibility, of being accountable for one's own actions. In many ways, it seems easier to blame others, events, circumstances for misery in our lives, at least in the short-term. In the long-term such excuses seem more and more hollow.
Use the thinking styles and behaviours of successful people to change your approach to 'failure' and personal responsibility with the help of powerful therapeutic techniques. Hypnotherapy Blackheath combines such modalities as Hypnotherapy, Time Line Therapy™, NLP and PSTEC™ to craft a tailor-made, personalised solution to improving your self-image and boosting self-esteem.